Sardinia Trip - September 2011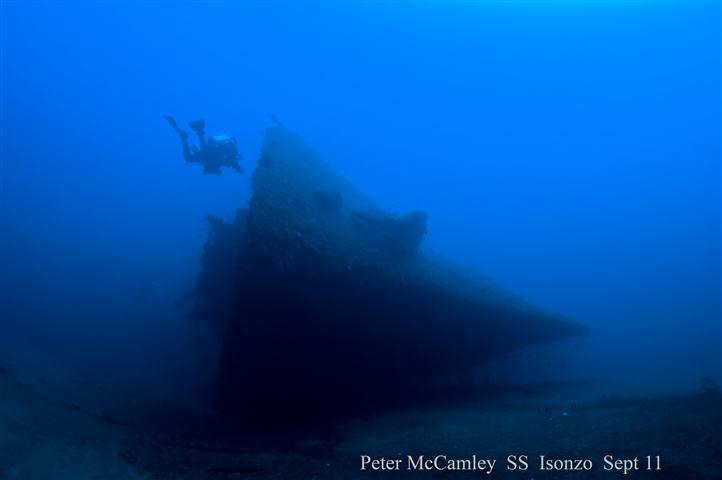 The year was 1999, when I first met up with Leigh Cunningham in Sharm. Over the following years I did all of my OC Tek Training with this master of deep diving. As an OC Tek Instructor, there are only one or two guys that I know who come close to this man's experience in deep diving. (http://www.deeperblue.com/article.php/309/28) or email Highpp02@yahoo.com
Last Oct, I received an invite from Leigh wanting to know if I was interesting in joining an expedition of deep wreck diving off the South coast of Sardinia. I didn't need to be asked twice.
The planned wrecks would vary in size from 500 to 5000 Tonne in depths from 40 to 110 mtrs . All the wrecks would be WW2 Italian marine war machines, with the exception of one American P221 Patrol boat..
I mentioned the trip to a few lads and it soon materialised that there
would be four of us, Richard Crothers, Dr Mark Palmer, Dr Neil McLeod
and myself from "Nord Iron" (all on Inspos) , joining a team, which
would include one lad from Germany, Bert, one lad from Denmark, Per,
with Sally, Keith and Jason arriving from the UK, all OC.
We were scheduled to fly out from Stanstead with Easyjet on 22nd Sept 11
for 9 days diving.
Direct flights from Stanstead to Cagalari with Easyjet were £54 return.
(On our next trip, we intend to fly from Dublin direct to Olbia in
Northern Sardinia and drive the 140 miles south)
Thanks to Neil we shipped via DHL 60 kgs of Sofnolime to the Dive
Centre (Morgan Diving) at a cost of £87.00. (Next time we intend to send
all the diving equipment DHL Return)
Unfortunately, I had to delay to 26th Sept, before I could join the trip.
We stayed in the 4 star

  

Hotel Scientio 
http://www.alpitourworldhotels.it/sito_sighientu/ita/index.asp

 
@ 87 Euro per night per double sharing inc breakfast. We had to walk all
of 30 meters from the Hotel to the Dive Centre next door.
The Dive Centre, Morgan Diving is and owned and Operated by Mario,
one of the nicest and most obliging people on the planet. A first class Tek
Diving Operation.
The dive centre has a Hard Boat that can easily take 10-12 Tec Divers
There is also a couple of 10 meter Rib that can also take 6-8 Tec Divers.
The boats are based in the marina, which is meters away from the front
door of the Dive centre.
All of the 4 dozen or so wrecks are located within 30 minutes boat ride
from the Dive Centre and vary in size and depth.
This is what I saw during my five days.
Day 1: P221 @ 50m. The only Allied casualty. Fully intact and
breathtaking for photographers.
Day 2: Loredan @ 64m
http://www.wrecksite.eu/wreck.aspx?96402
Day 3:Valdivagna @ 75m
http://www.wrecksite.eu/imgBrowser.aspx?15828
Day 4: Isonzo @ 57m
http://www.wrecksite.eu/wreck.aspx?96464
Day 5: Loredan
To be fair, despite me having the scooter, you really need at least two
dives on these wrecks to get any idea of what is where, due to their size
and the volume of stuff to see and that's before you head inside.
Next year, high on the list will be the:
San Marco @ 97 to 107m
http://www.wrecksite.eu/wreck.aspx?139985
Bengasi 86 to 96m.
http://www.wrecksite.eu/wreck.aspx?135578
It really is amazing how intact all the wrecks are, with them all coming
a minimum of 10 up to 25+ mtrs off the sandy bottom in 29 degrees water
Temp on the surface with 14-16 degrees at depths below 40 mtrs.
In Sept-Oct, the water is at its warmest, however you definitely need
your winter woollies if you intent to do decent bottom time.
Leigh was using a Sony Film Production Camera in a Gates housing, the
best that £40 k could buy. The video of the expedition including one
days caving up north, where Per joined Leigh, is absolutely spectacular
underwater footage in gin clear conditions and without doubt the best
wreck underwater footage that I have ever witnessed. I will let you
know as soon as some of it hits U Tube.
The cost of 9 days diving CCR was 650E and the cost of my 5 days
diving 330E. (We supplied the lime) This included our gas, cylinder rental, and boat trips.
Amazing value for the chance to see WW2 Battle Cruisers, Frigates,
Destroyers and all the marine hardware associated with a bygone age
steeped in history and hardly ever dived. As a wreck diving enthusiast, I
was absolutely blown away at how intact the wrecks had remained since
the day that these massive ships had met their demise due to mortal
wounds. What we witnessed during our week was a sample of the
skill and determination of the British Submarine Commanders during
WW2.
Only by diving wrecks that are intact as these, it's only by seeing where
they were torpedoed that you can really appreciate the force of
devastation that was caused when the impact occurred.
Sincere thanks to whole team, where each day went like
clockwork, Leigh for the invite, Mario for sorting out all the gas,
Bert, for dropping us with pin point accuracy on every occasion.
We already have six names for Sept 12, so drop me a PM if it would be of
interest.
Contact Mario:
Sardinia – Italy- Phone: 00 39 337 564354

   

Fax : 00 39 070 805059
Web Site : 

www.morgandiving.com

    

mail : info@morgandiving.com
WRECKS 
ROMAGNA

 33 to 43 mt.
PRUA del ROMAGNA

 38 to 43 mt.
LT 221

  

38 to 49 mt.
CHIATTA of LT221

 50 to 53 mt.
ISONZO

 38 to 57 mt.
LOREDAN

 53 to 64 mt.
MARTE (SALPI)

 50 to 60 mt.
VALDIVAGNA

 60 TO 75 MT.
BENGASI 

86 to 96 mt.
SAN MARCO

 97 to 107 mt. 
You can see the photos on web site (

http://www.morgandiving.com

) 
Malta for the MOD2 - 2nd - 9th April 2011
My God last week's diving was unbelievable.

I have just returned from Malta after a week of diving that was amongst the best I have ever done. They say that your life is made up of days that you can remember; well these past few days will stay locked in for a long time to come.

For anybody thinking of doing MOD 2 or 3, Matrix diving must be looked at before you make your final decision on where to go.
http://www.divingmatrix.co.uk/

Last week when we were there, both Richie Stephenson and Jack Ingle were teaching courses and or organising trips.

It was 12 mid day on Sat 02nd April 11, when we all met up at Belfast International Airport.
We were heading to Paul Toomer of Matrix Diving
http://www.divingmatrix.co.uk/ and Al Wright in Malta for a week of Mod 2 Training.

There were originally 12 divers, some from the Newry SAC, Belfast SAC and Enniskillen SAC. At the last minute one of the lads could not make it.

Gerry Brown and Jimmy Lyons both OC Trimix divers for the past 7 years, and founder members of our Club, were now doing their MOD 2 with Paul Toomer.

Mickey Whitley, Sean Farquahson, Stephen Weir and Frank McDermott were doing their MOD 2 with Al Wright http://www.salutay.co.uk/www.salutay.co.uk/Welcome.html. Alan and Freda are back in action all next year on Salutay and organising trips to Donegal and The Isle of Man.

Liam Ferguson, Tomas O Dubhain, Al Cranson and Daniel Torley had decided to come in order to do OC Diving. Alan Cranston is one of the finest underwater photographers that I have ever been in the company of. Due to the fact that the Aquatica housing for my D90 had just arrived, I had a great craic with him about white balances, shutter speeds, apertures Photoshop etc etc etc.

It was 2.50pm went we took off from Belfast International Airport and exactly three hours later we arrived in 24 degrees of sunshine. We hired a couple of motors for 120 Euro each for the week and half an hour later we were at our base, The Topaz Hotel in St Paul